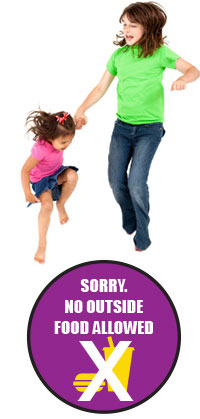 The Maze of Fun for Everyone
The KidMania "ManiaMaze" is a clean and safe interactive adventure area where kids can pretend to explore new worlds, hunt for treasures lost or embark on epic adventures as they crash through the "Challenge Path", master the "Cave Climbs", ride the "Magic Carpet", zoom down zip lines, crawl through tunnels, ride the slides and jump into new worlds as they let their boundless imaginations run wild!
With over 5 levels of energy-sapping entertainment, KidMania boasts the largest and most modern playground in North Texas which is over 25 feet high, 280 feet long and more than 143,000 cubic feet of thrills, laughter and screams! Children delight as they participate in healthy exercise, sharpen their motor skills, strengthen their muscles, improve hand/eye coordination and expand essential social skills.
Whether you're a toddler, a teenager, or an old-timer, you can run and romp, slip and slide, bob and weave your way up, down and all around the ManiaMaze for hours of endless fun and enjoyment.
Have a little one who is 3 or under? They can enjoy our "MiniMania" toddlers-only play-space where they can run around and play on specially designed equipment, with children their own size and physical abilities.